If you're in need of an advocate to guide you through the trials and tribulations of the job market, we've got you covered. Using our seasoned expertise in finance, we'll assess the balance sheet of your career and help you make the most of your assets to form the perfect merger.
Recruitment within the legal and finance sectors requires a specialist set of skills, an understanding of the lingo and an eye for spotting true talent. Which is why we've successfully partnered with some of the UK's finest finance professionals and legal eagles with some of the biggest brands.
To speak to our friendly team about how we can help you, call 01204 589 555 or complete our online enquiry form.
Alternatively, browse our jobs below or upload your CV - it only takes a few seconds.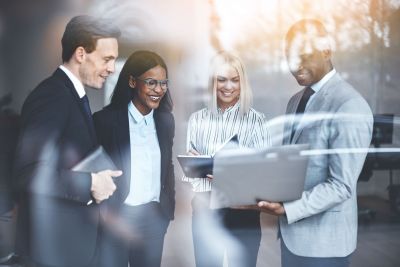 Our Experience
We know that legal departments and finance teams are one of the core functions of a winning business. There's little room for error and an organised approach is essential. So we apply that philosophy to our legal and finance recruitment process.
We've worked alongside legal firms, in-house finance departments and large professional accounting teams to ensure the right people are in position to keep everything working as it should be.
Our consultants have years of professional experience working in legal and finance, so we understand these sectors and the language you talk.
For firms, that means:
We understand the characteristics and skills required for legal and finance roles at all levels, so we can identify candidates who will deliver results
We understand the unique challenges faced by firms in these sectors. With expertise helping Magic Circle and the 'Big 5' accountancy firms, plus new local businesses bristling with innovative digital ideas.
We understand a changing market, so we're ready to find the talent that keeps moving with the times.
For candidates, that means:
We take the time to understand how to help you take the next step on your chosen career path.
We work with you to understand the best working environments for you dependant on your skills and personality.
We have links to some of the biggest employers in the legal and finance sectors, opening up plenty of exciting new opportunities.
In Demand Legal & Finance Job Roles
Finance
CFO
Finance Director
Head of Finance
Group Financial Controller
Financial Controller
Divisional Financial Controller
Finance Manager
Financial Accountant
Finance Executive
Financial Analyst
Risk Manager
Financial Project Manager
Revenue Manager
Purchasing Manager
Purchase Ledger
Billing & Collections Manager
Credit Controller
Legal
Head of Legal
Senior Partner
Lawyer
Solicitor
Paralegal
Legal Secretary
Litigator
Legal researcher
Fee Earner
Claims Manager
Claims Handlers
Case Worker
Licensed Conveyancer
Latest Legal & Finance Jobs
Greater Manchester
£55000 - £80000 per annum + DOE + benefits
View Details
Greater Manchester
£28000 - £32000 per annum + Benefits
View Details
Legal & Finance Sector Insights
What is the state of play in the sector?

Whist legal and financial are evidently two distinct sectors. The seismic challenges faced by both sectors are comparable. Tesco law has seen a separation in the role of the legal expert with household family firms becoming a distant memory and the merger of local regional players.
This transformation has meant that game changing experts have become the commodity of success. Whilst Insurance and claims business entering the legal arena look for smart sales orientated go getters, who want to grow a career and be rewarded for performance. At the same time the demand for consummate advocators and litigators experts has never been higher.
The financial arena is also undergoing a radical change. The digital age has seen the remote low-cost high-quality service begin to grab the market by the abacus. The age of the stereo typically accountant, a man of few words and a calculator has ended, now our most successful clients want highflyers that are too sexy for their calculators. They demand engaging leaders who are client facing, brand ambassadors and have the ability and energy to go all the way.

What are the biggest things impacting recruitment in these sectors at the moment?

Skill Shortage
Of course, there's no actual shortage of skills within the legal and finance sectors, though finding the RIGHT skills is an ongoing challenge for financial and legal firms. Business are in need ot those who fully understand legal and accounting processes, PLUS have the advanced skills to keep up with emerging technology and software systems. This makes the recruitment process that bit tougher, as traditional legal and finance professionals don't always hold these very crucial additional skills. In a 2016 survey by Peak 10, it was unveiled that more than three-quarters (76%) of financial institutions had created new IT roles in recent years, though half stated they were finding it either "difficult" or "very difficult" to find the right candidates for the role.
Retaining Top Talent
Bringing on board your next big hitter in the legal or finance team is just the beginning. Keeping them happy, rewarded and motivated is a whole other hurdle. Legal and finance professionals have a specialist set of skills, so they know their value. Treat them well, and they'll remain loyal on a long term basis. Treat them like a number, and they'll happily move on to a more promising proposition.
In such as key environment as law, HR and finance, it's more crucial than ever to keep your number crunchers and legal minds happy. Which is why we offer a full retention strategy as part of our recruitment process. Because sometimes, it takes much more than a corner office and a dress down Friday to keep great talent coming back every day.
That said, the legal and finance sectors have had to face a slightly poor rep in recent times. Long hours, stressful targets and demanding roles don't always excite those just getting started in the sector. So there needs to be a blend between professional progression and job satisfaction to entice those believing the hype that this sector has lost its sense of fun. Accountants are fun. Just in their own unique and perfectly balanced way.
Mixing With Millennials
According to the Workplace Culture report from LinkedIn, 86% of millennials would take a pay cut in order to work for a company whose values are in tune with theirs. (By comparison, only 9% of baby boomers would do the same.)
Those just getting started on a career in legal or finance are ready to be mouded, coached, developed and shaped… and they're ready to work hard in order to progress. By widening the net to make roles appealing to the next generation, brands are able to lose the formal, fusty approach that just doesn't make millennials tick. After all, the next gen are the future of a business… so you'll want to keep a firm hold of the rising stars.
What skills are in demand?

Passion
As with any role, enthusiasm is a key component that clients yearn for. The ability to bring a positive mental attitude to be a real leader of a team and truly believe in what you are working towards is crucial. Passion is infectious; you become a business architect shaping the building blocks of your company's future.

Communication
The keystone of any industry success is clear communication, from the biblical tale of the Tower of Babel, lack of communication is the enemy of achieving your dreams. Consummate professionals need to convey complex information in the most straightforward way possible, to understand and be understood.

Expertise & Understanding
It is imperative that today's candidate understand their market sector. Understanding new information and intricate data, it is not enough to crunch the numbers or know the law without commercial context, but you must be a true project manager; you're a brand ambassador able to advise your clients on their commercial or legal journeys.

Commercial Awareness
Whilst many hard skills should be a given, commercial awareness is the cornerstone of success. You must possess the ability to instantly spot opportunities to win. The expertise and knowledge of how and where your expertise fits in its market – the socio-political economic factures that drive your market or as an advocator the knowledge of the precedence and case law that can guide your clients through a commercial mine field.

Innovator
The law and accountancy has been around since the dawn of time, from the logistic accountancy of the Great pyramids and the justice of the ancient Greeks to the double entry book keeping of the renaissance No enterprise can be a success without a control and methodology applied to the budgets and numbers and a clear understanding of the legal framework An Innovator is required to understanding an evolving and changing business markets, our top clients require candidates with bold new ideas –able to impact on their personal development ,their company growth and their market
What do the next few years look like?
The rise of the millennia is changing the face of the workplace and the employment market. The World Data Lab forecast that the global spending power of millennial will be more than any other generation previously.

So how will his new generation impact the market? Millennials will examine you and your firm's digital footprint. They value and crave flexibility; they embrace remote working and see less value in physical face time. Never has feedback values and culture been as important in the workplace. The millennial has confidence and self-worth, they like platforms where they can assess and see the "why" behind your decisions.

The business community is now on-line for everyone to see. However, it's not just the mainstream social media sites like LinkedIn Facebook and twitter, but the industry specialist forums where you can showcase your personal skills and USPs to a highly targeted audience.

The explosion of data means that small law firms and accountants can compete with the big boys. You don't need a plethora of associates to painstakingly screen data, with products like eDiscovery, you can remove the wheat from the chaff and achieve your client's goals efficiently and expediently.

Artificial Intelligence (AI) allows computers to perform tasks more efficiently and economically than admin associates. The importance of AI in the financial and legal sectors cannot be underestimated, whilst at the lower level this will mean the loss of none earning administration. The high-flying firms of tomorrow will be lean and efficient, and the superstars will be data and technological astute with a broad skill set.
What advice would you give to those looking for a role in these sectors?
Contact our Legal & Finance specialist consultants on 01204 589555 today!
What Some Of Our Legal & Finance Clients Say
Candidate Testimonials
Instantly with The People Pod I knew that they were there to help and I wasn't just 'another candidate'. They listened to my needs and presented the role I fell with in love with instantly. They kept in regular contact at every stage of the interview process offering support. The People Pod opened the door to my new career and it has so far been amazing. I would highly recommend them, they genuinely care and what to help make your next role a success.
Kayleigh Manning |
The team at The People Pod not only approached me in a professional manner to instigate my move, they were also on point with their processes through the interview stage and were always there to discuss the opportunity. I would recommend them to anyone looking to find a new job.
Dan Beardshall |
I was ready to seek a new challenge in my career and The People Pod were there to facilitate this new venture. From my initial contact with The People Pod I felt confident in my decision, they really took the time to understand me on a personal level and what I was looking for and was able to find me the perfect match. The entire process was quick, and I was fully informed throughout. I would thoroughly recommend The People Pod to others and already have.
Lydia Jenkins |
As a candidate I found The People Pod to be very helpful and took the time to ensure the company was the right fit for me and vice versa. Their communication was excellent and their advice was highly valuable. I have worked with many recruitment agencies and The People Pod definitely stood out from the crowd. Thanks again for all your help!
Mercedes Yau | Manchester
I had a great experience from start to finish with the People Pod Team, they were so helpful and really knew their stuff inside out. They were constantly in contact keeping me updated every step of the way and also helped prep me for any interviews and directed what to research to be completely ready for interviews. Super friendly and supportive which made it a lot less stressful and have now got me into a dream job with lots of opportunity. Honestly can't thank and recommend them enough!
Bethanie Young |
I met face to face with my consultant and he gave me a full brief on the potential opportunity. We agreed to meet his client to discuss the role further and he helped me prepare for both first and second interviews. The process from start to finish was seamless and very professional, I would have no hesitation in recommending The People Pod as a first-class recruiter.
Carl Richardson |
I've never used a recruitment agency before but thankfully found The People Pod and what an experience it was! I received amazing service with a friendly approach and felt they really took the time to understand my needs and made the whole process very engaging. They ensured I was prepared and kept in continual contact with me throughout. Their passion and enthusiasm was exceptional and I can't recommend People Pod enough, they played a huge part in finding me a job I can say "I love".
Charlotte Wright |
Got my dream job through The PEOPLE Pod. My consultant was down to earth and approachable, had good knowledge of the company which helped greatly in the interview and offered some great advice
Jamie Ronald |
Latest Legal & Finance Articles