Looking for digital jobs?
Discover new jobs in digital & technology
Are you an employer that is looking for the brightest minds in the digital landscape to help you transform what is possible for your business?
Are you a creative and skilled digital professional looking for an opportunity to move up the career ladder in an exciting and ever-expanding sector?
Pleased to meet you.
Whether you're looking for a new part-time, temporary, full-time or permanent job, or you want to recruit for your business, The People Pod are here to help you discover an opportunity for a digital role that is perfect for you.
Suited to your salary, location, contract and potential remote working needs, our job is to play match-maker and help the client, whoever they are, get what they want.
Just like in digital marketing, recruiters like us aim for a high conversion rate and a low bounce rate.
However, few manage to achieve the levels of success that our team of recruitment consultants have been able to muster over the years.
We use our fine tuned skills and the power of a perfect job alert to find the perfect match and let the ideal candidate know that their perfect opportunity has arisen.
We place people in jobs they love, and they stay there.
We are able to do that because we spend the time necessary to truly understand a business and its needs, as well as a candidate and their motivations, strengths and weaknesses.
To speak to our friendly team about how we can help you, contact us.
Alternatively, browse our digital jobs below to save job opportunities or upload your CV to our website. To make it easier to find a new digital position, for this search we recommend signing up to receive job alerts in an area near you be it north, south, west, east. You can find out about opportunities to date - and it only takes a few seconds.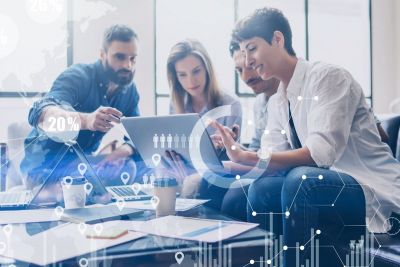 Our experience
We have been matching the most innovative digital and technical professionals with the most forward-thinking brands for many years now, and we've been there to watch the sector explode with possibility.
Digital & Tech Roles in Demand
The People Pod is a specialist recruitment firm based in Bolton, helping businesses across the UK to find the best candidates and talent.
Our recruitment offices are based in Bolton, Manchester and London.
We have recruited ideal candidates for a wide range of digital positions.
Digital & Ecommerce
Head of eCommerce
eCommerce Manager
Head Of Digital
Online Marketplace Manager
Digital Project Manager
Social Media Manager
Social Media Exec
Affiliate Marketing Manager
Product Owner
Head of Paid
Paid Media Manager
Paid Social Media Consultant
Paid Media exec
PPC Consultant
Biddable Manager
Biddable Executive
Head of SEO
SEO Manager
SEO Team Lead
SEO consultant
Technical SEO Manager
Technical SEO Consultant
Digital Marketing Exec
Head of Content
Content Marketing Manager
Content Manager
Content Lead
Copywriter
Creative Director
Head of UX
User Experience Manager UX
User Experience Designer UX
User Experience Lead UX
UX UI Designer
Front End Developer
Senior Web Designer
Web Designer
.NET Developers
Test Manager
Solutions Architect
Web Developers - Back End
Full Stack Developers
PHP Developers
Java Developers
Front End Developer
Web Analytics & Insight
Head of Analytics
Global Digital Analytics Manager
Analytics Manager
Data Analyst
Customer Insight Analyst
Marketing Analyst
Web Analyst
Insight Specialist
Head Of CRO
CRO Manager
CRO consultant
Latest Digital & Tech Jobs
Greater Manchester
£35000 - £42000 per annum + + Benefits + Bonus
View Details
Digital & Tech Sector Insights
The state of play in the digital & technical sector

We are living in a world that has never been more digital, and more connected. And that means career opportunities for those of you with digital and technical skills have never been more exciting.
Smart meters, digital banks, face-recognition technology, chatbots, AI, voice-activated virtual assistants, and so much more, are all now a regular part of day-to-day life for millions of us across the UK.
Not only that, but it's been suggested that data is now the world's most valuable resource, rather than oil.
More than 3 billion people around the world actively use social media, while more than 5 billion people use mobile technology.
What's more, over half of the world's population now uses the internet, and the average internet user spends six hours a day using internet-powered devices and services.
This staggering rate of innovation has led to the digital sector becoming worth a whopping £130 billion to the UK economy, and it's easy to see why. Consumers desperately want digital services and products to make their lives easier and more enjoyable, while businesses desperately want digital products and services to sell, and to help them become more efficient

What are the biggest issues impacting recruitment in the sector?

The biggest issue impacting recruitment in the digital sector is the rate of change and innovation that professionals need to keep up with.
Because new technologies and techniques are developed and adopted so quickly, it means that employers have to react and seek out those with experience quickly to remain ahead of the curve and as profitable as possible.
The increasing use of automation in the digital sector is also shaking things up - tools and platforms are becoming more powerful and starting to do the work that people would have typically done. Candidates need to make sure they have something else to offer employers that software can't.

What skills are in demand in the sector?
As a result, demand for skilled digital professionals has outstripped supply, leaving a 'digital skills gap' that is slowing down businesses' progress.
So if you're a candidate in this sector, the chances are you will be a very attractive proposition to employers in a range of different industries.
According to the Future of Jobs Survey by the World Economic Forum, over 50% of companies globally actively want to invest in the following areas by 2022:
Encryption
Augmented and virtual reality
Digital trade
Cloud computing
Machine learning
Internet of things
Apps
Big data analytics
But they need people to understand them and implement them on their behalf!
As a result, these are some of the skills that are most in demand among professionals in the sector:
Software development
Programming
IT and computer networking
Data analysis
Digital marketing - SEO, PPC, content marketing
CRM
Manufacturing and machining technology
Digital design
But what about 'soft skills' - the personal characteristics that employers are looking for?
If you have a combination of the soft skills below, you'll be very popular in the digital sector:
Creative thinking
Good work ethic
Ability to work independently and in a team
Problem solving
Planning
Quality control and attention to detail
Analytical skills
How is recruitment for the digital & technical sector likely to change in the future?
Expect it to become more competitive! While there is a digital skills gap at the moment - this won't last forever. It's a candidate's market, but that will mean an increase in the number of people getting into the sector in search of a rewarding career. As a result, supply will begin to catch up with demand.

What advice would you give to those looking for a role in the sector?
Make sure you are ready to work hard and do not expect every day to be the same. In such a dynamic industry, things change quickly, so you need to be adaptable and keep on your toes at all times.
You should also aim to upskill yourself as much as possible - especially if you work in digital marketing. No matter what discipline you specialise in, you'll need to work alongside content experts, SEO experts, designers, developers and PPC pros, so make sure you understand as much as possible about each discipline to be as effective - and attractive to employers - as possible.
Why Work in the digital and tech sectors?
Why work in the digital and tech sector?
So, what's so good about working in this exciting industry? You get:
the opportunity to drive growth for leading brands
the freedom of creativity and putting your own stamp on a brand.
the chance to be a part of the next big innovation in clever technology, digital marketing or creative design.
a role often associated with great social culture and a creative environment.
the opportunity to develop into other areas such as tech development, customer experience, community management and advertising.
great earning potential, with marketing roles being one of the highest paid careers in the UK.
What Our Digital & Tech Clients Say
Abbott Healthcare
Abbott, an American healthcare giant that operate worldwide met with The People Pod nearly a decade ago to discuss their resourcing needs. They had a number of key vacancies for a business area that required them to find skilled professionals quickly in a vastly competitive market to ensure their growth.
I-COM Limited
I-COM are an award-winning full-service digital marketing agency in Manchester, with an impressive portfolio of local and international clients. They are truly a digital marketing agency like no other, and to constantly achieve their unrivalled client service results they have demanding needs for any future hires looking to join the team.
Candidate Testimonials
I had a great experience from start to finish with the People Pod Team, they were so helpful and really knew their stuff inside out. They were constantly in contact keeping me updated every step of the way and also helped prep me for any interviews and directed what to research to be completely ready for interviews. Super friendly and supportive which made it a lot less stressful and have now got me into a dream job with lots of opportunity. Honestly can't thank and recommend them enough!
Bethanie Young |
I have been working for my dream employer for five months now and I believe The People Pod gave me the confidence to change careers. Their knowledgeable consultants spent time to understand what I was looking for and were with me every step of the way, their fun and personable approach was nothing short of outstanding. I would highly recommend The People Pod if you are looking for a new career or a step in the right direction this is the company for you!
Emma Farrell |
"The People Pod have taken the time to understand, and match my needs. The full recruitment process was a great experience. My contact was fun and engaging, whilst encouraging me throughout the whole process. The interview preparation was a great help – just what I needed to prepare. I can recommend The People Pod to anyone looking for their next career move!"
Lish Zhang |
Got my dream job through The PEOPLE Pod. My consultant was down to earth and approachable, had good knowledge of the company which helped greatly in the interview and offered some great advice
Jamie Ronald |
The team at The People Pod not only approached me in a professional manner to instigate my move, they were also on point with their processes through the interview stage and were always there to discuss the opportunity. I would recommend them to anyone looking to find a new job.
Dan Beardshall |
I met face to face with my consultant and he gave me a full brief on the potential opportunity. We agreed to meet his client to discuss the role further and he helped me prepare for both first and second interviews. The process from start to finish was seamless and very professional, I would have no hesitation in recommending The People Pod as a first-class recruiter.
Carl Richardson |
I was ready to seek a new challenge in my career and The People Pod were there to facilitate this new venture. From my initial contact with The People Pod I felt confident in my decision, they really took the time to understand me on a personal level and what I was looking for and was able to find me the perfect match. The entire process was quick, and I was fully informed throughout. I would thoroughly recommend The People Pod to others and already have.
Lydia Jenkins |
Instantly with The People Pod I knew that they were there to help and I wasn't just 'another candidate'. They listened to my needs and presented the role I fell with in love with instantly. They kept in regular contact at every stage of the interview process offering support. The People Pod opened the door to my new career and it has so far been amazing. I would highly recommend them, they genuinely care and what to help make your next role a success.
Kayleigh Manning |
Latest Digital & Tech Articles