Discover international opportunities overseas
We don't call it Great Britain for nothing. There's a lot to love about Blighty. Not only will you struggle to find a better way to start the day than with a Full English Breakfast, there's also a lot to be said for a proper cup of tea, our instagram-worthy landmarks and being home to the best cricket team in the world.
Sure, the weather sucks but it's a great conversation starter and keeps our sense of humour intact.
However, if you're eager for an adventure and want a taste of new culture, it might be time to kickstart that new career overseas.
Finding jobs abroad and getting a visa might seem like a challenging task but at The People Pod, we aim to make things as easy as possible.
Our specialist team work across a range of industries including retail, leisure, hospitality and professional services throughout Europe, the USA and beyond.
We'll scour the globe to find your dream job, and work with you to ensure that you are fully prepared for working abroad. We'll even give you a few pointers on how to pack your suitcase for maximum space-saving capacity!
To speak to our friendly team about how we can help you find opportunities to work abroad, contact us today.

Alternatively, browse our jobs below or upload your CV - it only takes a few seconds.

International Recruitment
We're not just a one-trick pony, though.
We also help international employers access the very best UK talent to take your operations to the next level.
Our vast candidate database contains thousands of highly skilled professionals in the retail, hospitality, digital, legal, finance and sales sectors, ready to jet off for a new career overseas.
We match you with the candidates who will meet your job and culture fit criteria by using the most progressive recruitment technology and a sharp eye for top-tier talent - all powered by our unrelenting passion for what we do.
What does that mean for you? Less time and money spent on recruitment drives, happy employees, and happy us. Everyone's a winner baby, that's the truth.
Just some of the international employers we work with include:



So if you're looking for an international recruiter to level-up your workforce, we're ready to chat.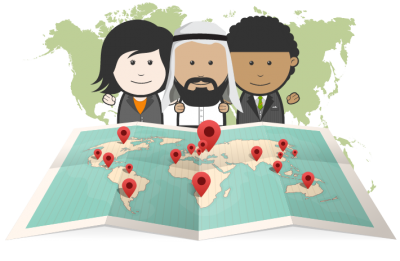 Our Experience
There's a lot to consider when searching for a shiny new career overseas (not just which far flung hotspots you'll plan to frequent at the weekends!)
We'll work with you to enlighten you on different workplace cultures, customs and ways of life in your destination of choice. We make sure that you are fully prepared for every stage of your application process, and ready to rock in your new career overseas.
If you're ready, get in touch with the team... we'll get on the case, while you start packing yours.

International Roles in Demand
Retail & Hospitality
Global Head of Retail
International Head of Logistics
Global Head of HR
Global Head of Marketing
Global Head of Buying
Global Head of Merchandising
Head of eCommerce
Head of IT - International
Head of Property - Global
Retail Country Manager
Global Sales Director
Global Sales Manager
Global Account Executive
EMEA Head of Sales
EMEA Sales Manager
EMEA Account Executive
International Business Development Director
International Business Development Manager
Global Account Manager
Head of eCommerce - Global
International Head of Digital
Head of Paid - International
Head of SEO - Global
Head of Content - Global
Legal & Finance
Global Head of Finance
International Finance Manager
International Finance Analyst
Group Financial Controller
Jobs in Dubai
Dubai is an influencer paradise and offers a luxurious combination of glamour, culture, nightlife and sea views. Home to some of the biggest multinational corporations in the world, we understand why Dubai has such an appeal for those wanting to relocate and start working abroad.

Latest International Jobs
No Jobs are currently available, please check back again in the near future.
International Insights
What skills are in demand overseas?
The 'in demand' skills required for international employers will of course depend on the specific country you are looking at so when considering up-routing yourself, and possibly your family, it is important to understand if the industry you work in is in demand.
If so, not only could sponsorship to that country suddenly become a whole lot easier but the remuneration you could receive. You could effectively do the same job but be jumping on a business class flight rather than economy.
Being a Brit with a solid career history will be appealing to prospective employers overseas in whatever industry you are from. Fundamentally, international employers will be looking for individuals who can demonstrate several key skills including:
-A high performance of productivity and efficiency (AKA: a grafter)
-Multilingual communication capabilities (can you speak other languages?)
As is the case in the UK, a real cultural fit is needed for any potential employer. As we all know (unfortunately) we spend more time with our work colleagues than we do with our family, so some of the 'softer skills' listed above are going to be key when making a decision on whether an employer is right for you and it's the same on the other side of the fence.
There are certain industries that are in demand in any country you are considering, if you work in nursing, financial services, technology and manufacturing you will always be looked at as desirable to overseas employers as they would be in the UK.
By 2030, the global talent shortage in these industries could reach over 85 million people, costing organisations trillions of dollars in lost economic opportunities.
When considering a career move abroad, it goes without saying that you should do your homework. You may be surprised where your experience can take you and what exciting new adventures are waiting in the offices around the world.
What advice would you give to those looking for a role overseas?
Contact our overseas specialist consultants to discuss the ideal destination for your next career path.
How is recruitment overseas likely to change in the future?
Fast paced, high growth businesses are increasingly seeking out more finely tuned skill sets in various sectors, especially sales, retail, digital and finance.
No longer do they select candidates based simply on experience. Leading brands are looking for the right attitude, culture fit and specialist skills… and they'll search the globe to find them! To stay ahead of the trend towards overseas recruitment, our team pride ourselves on continually developing in line with emerging technologies and new ways of working for a slicker, more streamlined process.
Breaking Barriers
As technology gets smarter, processes become slicker. The efficiency in communication between recruiters and jobseekers, as well as recruiters and their clients has dramatically improved, with new technology helping to overcome geographical barriers, reduce feedback times and create a more seamless selection process.
This new technology has made it easier for businesses to find talent, regardless of location. So if your ideal candidate ticks all the boxes, yet lives hundreds of miles away, there's no reason why a golden opportunity must die with the distance.
Recruiters have access to global talent pools via online job boards, professional networking sites and specialist industry forums, connecting us with candidates across the globe. This also opens up great opportunities for candidates keen to work overseas, and for employers who want to find the right people, regardless of where they're currently located.
The Data Game
A far cry from the days of sifting through piles of paper and sorting CVs by hand, data intelligence and AI has allowed recruiters to get through their screening process more swiftly, by filtering out the most relevant of all applicants.
Leaving more time to spend on interview preparation, character profiling, in depth skill assessment and ensuring the right cultural fit. Time is precious to the recruiter, even more so to a business keen to build their teams. As data handling continues to become much more intuitive, resources can be used much more productively.
So Much More Than A Sheet Of A4
Long gone are the days when candidates were required to squeeze every last drop of their experience onto a perfectly formatted sheet of paper. CVs will always be a staple in the jobseekers armory, though the advancement of social networking sites and recruitment forums allows a candidate to open up a window into their career history.
LinkedIn and professional networking sites are the perfect platform to showcase genuine testimonials, experience and publications of work.
Twitter, Quora and Tumblr allow recruiters to see how candidates express their opinions and professional insights, as well as language skills, which come in handy when working overseas.
Job boards allow candidates to create profiles relating to the role they want, and where they want it, making it easier for recruiters to target by desired location… as opposed to where they currently live.
Portfolios have become animated, applications have become more creative and skill sets have become more transparent on the social media stage.
70% of employers* now look up candidates on social media, as a pre-screening opportunity before hiring them. This figure is up from 60% in 2016, and 11% in 2006. For employers selecting candidates from overseas, this offers a great insight into the lives of those we haven't yet managed to meet in person.
Video Calling
The way we use video calling is changing the face of the interview process. Location is no longer a hindrance to setting a date for an interview, as video calls are becoming more widely used in place of the face to face sit down. Not only a time saver for both candidate and recruiter, video interviews have broken down the barrier for candidates interviewing for roles overseas.
Video takes on a whole new level in the recruitment sector, as recruiters begin to use algorithmically enhanced video systems at the interview stage. HireVue, one of many on-demand video interview platforms hitting the scene, allows recruiters to analyse responses including facial expressions and word choice. This offers a more in depth profile of the candidate, whilst reducing the need for separate character profiling, follow up interviews and competency tests.
The recruitment sector won't sit still for long. Great recruiters are those that immerse themselves in technological developments and new ways of working. This is why we live and breathe the ethos of continually developing. We know what's making the recruitment process smarter, you can be damn sure we'll want to share that with you!
What Our International Clients Say
Candidate Testimonials
I've never used a recruitment agency before but thankfully found The People Pod and what an experience it was! I received amazing service with a friendly approach and felt they really took the time to understand my needs and made the whole process very engaging. They ensured I was prepared and kept in continual contact with me throughout. Their passion and enthusiasm was exceptional and I can't recommend People Pod enough, they played a huge part in finding me a job I can say "I love".
Charlotte Wright |
Instantly with The People Pod I knew that they were there to help and I wasn't just 'another candidate'. They listened to my needs and presented the role I fell with in love with instantly. They kept in regular contact at every stage of the interview process offering support. The People Pod opened the door to my new career and it has so far been amazing. I would highly recommend them, they genuinely care and what to help make your next role a success.
Kayleigh Manning |
I have been working for my dream employer for five months now and I believe The People Pod gave me the confidence to change careers. Their knowledgeable consultants spent time to understand what I was looking for and were with me every step of the way, their fun and personable approach was nothing short of outstanding. I would highly recommend The People Pod if you are looking for a new career or a step in the right direction this is the company for you!
Emma Farrell |
I met face to face with my consultant and he gave me a full brief on the potential opportunity. We agreed to meet his client to discuss the role further and he helped me prepare for both first and second interviews. The process from start to finish was seamless and very professional, I would have no hesitation in recommending The People Pod as a first-class recruiter.
Carl Richardson |
Got my dream job through The PEOPLE Pod. My consultant was down to earth and approachable, had good knowledge of the company which helped greatly in the interview and offered some great advice
Jamie Ronald |
I had a great experience from start to finish with the People Pod Team, they were so helpful and really knew their stuff inside out. They were constantly in contact keeping me updated every step of the way and also helped prep me for any interviews and directed what to research to be completely ready for interviews. Super friendly and supportive which made it a lot less stressful and have now got me into a dream job with lots of opportunity. Honestly can't thank and recommend them enough!
Bethanie Young |
The People Pod have been outstanding from the outset and very quickly and efficiently found the perfect company for me, where I see myself in a long term future..
Jay Singh | UK
I was ready to seek a new challenge in my career and The People Pod were there to facilitate this new venture. From my initial contact with The People Pod I felt confident in my decision, they really took the time to understand me on a personal level and what I was looking for and was able to find me the perfect match. The entire process was quick, and I was fully informed throughout. I would thoroughly recommend The People Pod to others and already have.
Lydia Jenkins |
Latest International Articles