Jobs in Retail & Hospitality
Forget off-the-shelf retail careers, if you're shopping for a challenging new role in the fast-paced retail and hospitality sectors, our specialist consultants are ready to hand-pick a role that will serve you well!

We're connected with some of the UK's leading retailers and hospitality powerhouses, and constantly network to match the very best talent with businesses who want to take the market by storm!

The world of retail is constantly evolving, and consumer tastes are becoming much more finely tuned. The digital arena has become the playground of purchasing, and a shop window for the competitive service sector. Great products just aren't enough these days. We want exceptional customer experiences, fuss-free transactions and to understand the fine detail of our purchases for ourselves.

So, to ensure a perfect pairing of high calibre retail talent and customer-fanatical culture, we focus on innovative selection rather than the usual outdated recruitment techniques. Because if you're looking for forward-thinking retail leaders, or a career that will keep you progressing, we must be forward-thinking and progressive in our approach too.

It's this bespoke way of working that has helped us build one heck of a reputation amongst leading retail brands, intuitive market leaders and hospitality trendsetters who love a fresh way of thinking. After all, they're not shopping for someone to serve… they're placing orders for high quality, customer experience gamechangers, and you won't find those on the shelf!

To speak to our friendly team about how we can help you find your next retail innovator, call 01204 589 555 or complete our online enquiry form.
Or if you're ready to make your mark in the ever-evolving retail and hospitality sectors, browse our current opportunities below, or upload your CV . We'll take care of the rest.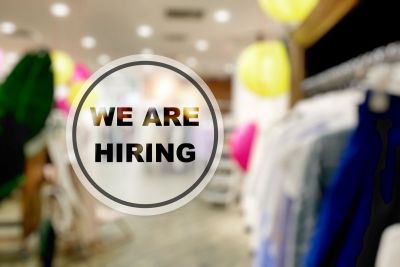 Our Experience
What makes us the perfect Retail & Hospitality recruitment partner for you? Good question!
Our consultants have years of professional experience working in these sectors, so we understand the recruitment market inside out.
For companies, that means:
we understand the characteristics and skills required for retail and hospitality roles at all levels, so we can identify the best candidates for you.
we understand the unique challenges faced by companies in these sectors. With expertise helping high-growth organisations find their next set of leaders, we understand how to meet your ambitions through recruitment and overcome your obstacles. Here's what some of our Retail & Hospitality clients say about working with us.
For candidates, that means:
We understand how to help you take the next step on your chosen career path.
We understand the best working environments for you depending on your skills and personality.
We have links to some of the biggest employers in the industry, opening up a whole host of vacancies to you.
Retail & Hospitality Roles We've Placed
Retail Operations
Retail Director
Head of Retail
Regional Manager
Area Manager
Commercial Manager
General Manager
Flagship Store Manager
Visual Merchandising Manager
Visual Merchandiser
Design Consultant
Showroom Manager
Store Manager
Deputy Store Manager
Branch Manager
Assistant Manager
Deputy Manager
Department Manager
Sales Manager
Section Manager
Multisite Manager
Floor Manager
Site Manager
Team Leader
Supervisor
Profit Protection Manager
Leisure & Hospitality
Retail Director
Head of Retail
General Manager
Regional Manager
Area Manager
Operations Manager
Unit Manager
Café Manager
C & B Manager
Bar Manager
Assistant Bar Manager
Hotel Manager
Front of House Manager
Food and Beverage Manager
Restaurant Manager
Assistant Restaurant Manager
Residents Manager
Assistant Residents Manager
Events Manager
Revenue Manager
New Stores
Flagship Store Manager
Showroom Manager
Store Manager
Deputy Store Manager
Assistant Manager
Department Manager
Section Manager
Visual Merchandiser
Team Leader/Supervisor
Customer Service Advisor
Sales Assistants (Full and Part time)
Head Office
Buying Director
Head of Buying
Senior Buyer
Buyer
Merchandise Director
Head of Merchandising
Senior Merchandiser
Merchandiser
Retail Director
Head of Retail
Category Manager
Allocator
Head of Property
Estates Manager
Marketing Director
Head of Marketing
Marketing Manager
Online Marketing Manager
Head of PR
PR Manager
Social & Content Manager
Demand Planner
Finance Director
Finance Manager
IT Director
Head of IT
HR, Learning & Development
HR Director
Head of HR / People
HR / People Manager
HR Business Partner
HR Advisor / HR Officer
of Learning & Development
L&D Partner
Trainer
L&D Co-ordinator
Head of Talent Acquisition
Head of Resourcing
Resourcing Managers
Recruitment Partner
Recruitment Co-ordinator
Reward Specialist
OD Professionals
Employee Relations Consultant
Latest Retail & Hospitality Jobs
Retail & Hospitality Sector Insights
The state of play in the retail & hospitality sector

Despite the recent slump, the UK retail sector is worth more than a whopping £350 billion to the economy every year, with an estimated 2.9 million people employed by the industry in this country alone. Closely linked to retail, hospitality is the UK's fourth biggest employer, and has grown in value faster than any other industry since the global economic crash. Yep, it's big business, and a great time to be part of an industry that rewards the creators of an awesome customer experience.

As large chain shopping centres continue to expand, not only is there a need for expert recruitment services to hand pick high volumes of staff, there's also the constant challenge of high employee turnover and fierce competition to deal with. Retail brands don't just want people. They want career-driven talent that will grow with them, and they'll be well rewarded for it in terms of progression and perks.

The high street, once the top spot for fast fashion and must-have media, began a tough battle against high rents and online competition. We are now, seeing those sky high rents becoming much more affordable for small businesses, exciting opportunities emerge for independent or own brand retailers, meaning retail operations careers will begin to flourish.

Leisure, food and beverage brands have ambitious plans to occupy 35% of large shopping centre space in the next 8 years according to Retail Week. To get there, they'll need customer-fanatical hospitality professionals, slick service teams and creative minds to serve up something a little unique to capture the tastes of the nation.
So, it's no surprise that careers within retail and hospitality have become a hot topic. It's a great time to be part of something big.

What are the biggest things impacting recruitment in these sectors at the moment?

Retail takes one of the top spots for high employee turnover. We've seen many reasons for this whilst working with retail brands to replace the talent that has taken a new path. Often, we find that candidates just aren't the right fit, experientially or culturally. Which is why we take the time to fully immerse ourselves in the culture of a business before we even put pen to paper on that job ad. Poorly fitting candidates not only make a large hole in recruitment budgets; they also can affect productivity and team morale. A great recruitment consultant will ensure a new recruit fits the business perfectly and plan a retention strategy to keep everyone happy.

Being predominantly customer-facing, retail and hospitality jobs need great customer service skills. No brainer. Yet, many businesses find that whilst a candidate ticks all the boxes on paper, when it comes to customer excellence, they suddenly lose their bottle. Retail leaders come from a diverse selection of backgrounds though have one thing in common. The customer service awesomeness. Which is why we meet every candidate in person, and even include role play in our interview prep, to ensure they cut the mustard in front of the customer.

As the world of retail joins the technological revolution, brands need tech savvy minds and skilled multichannel marketeers to keep them ahead of the game. It's no longer just about the customer care. It's about moving with the times, keeping up to speed with technological advances and continually developing skillsets to ensure retailers stay on the map. We're seeing many more specialist skills come to light, with retail jobseekers completing advanced online learning in their own time, to cut above the candidate competition.

Seasonality affects retail businesses who haven't thought far enough ahead to plan for busy purchasing periods. Christmas happens every year, on the same date, yet it's surprising how many brands wait until the very last minute to recruit the teams they need to cover the mad rush. Having a recruitment partner that is always ready to jump onto a high-volume recruitment drive is key to ensuring a store is never left understaffed.

What skills are in demand?

With many years of experience working in these sectors, we know the skillsets that organisations need to crank their operations up a notch.

Just some of the knowledge and characteristics we look for in the candidates who have what it takes to succeed include:

A customer obsessed ethos
A Product orientated approach
An understanding of Multi-Channel marketing
Meticulous attention to detail
HR principles, proven leadership and change management
Slick business awareness
An air of flexibility and a 'can do' attitude
A collaborative approach to teamwork
First class communication
From postgraduates, to those already in the industry and looking for something new, rest assured that whatever your skill set, there is a retail or hospitality role with your name on it!
The E-commerce boom
So, let's move on to the elephant in the room: the 'digital revolution'. We've seen some of the biggest shifts in the retail landscape since the e-commerce boom, many of which will continue to change the face of retail for the next generation.

The ongoing digital retail revolution is a game changer and will certainly put several retail jobs at risk. However, we believe the changes will provide the retail sector with an opportunity to reshape and refine a lot of the traditional retail roles. These exciting new roles will focus on skills you can't learn in the classroom. Creativity, flair, fresh thinking and adaptability to name a few.
The vision is to make the retail sector more connected with a more motivated workforce and multichannel offering. To get there, brands will look for less traditional skillsets and more 'people' focussed, head-smart recruits.
How is recruitment for the retail & hospitality sector likely to change in the future?
The recruitment arena is continually evolving, as businesses grow and require a more finely tuned skillset from the team that drive them forwards. The retail and hospitality sectors are up there amongst the most rapidly advancing industries, thanks to the emergence of new technology, more selective customer preferences and globalisation. Meaning that employers are now seeking those with the specialist skills needed to move with the times.

What advice would you give to those looking for a role in these sectors?
Call the People Pod today and speak with one of our Retail & Hospitality consultants on 01204 589555. We'd love to talk to you!
What Our Retail & Hospitality Clients Say
Domino's Pizza
We all know Domino's for their deliciously convenient takeaway food and dedication to saving the world from dismal dining. They approached The People Pod to exclusively resource all management level hires across the largest franchise in the South, whilst servicing other smaller franchises.
Candidate Testimonials
Working with The People Pod was a great experience. They were extremely helpful and took the time to find out what type of role I was looking for and made sure they understood my needs. They supported me throughout the recruitment process and took the time to explain, in detail, about the company and the role from this I knew it was something I would be passionate about. I am now working in a fantastic role with an amazing business thanks to the work of The People Pod.
Jay Abbott |
The People Pod have been outstanding from the outset and very quickly and efficiently found the perfect company for me, where I see myself in a long term future..
Jay Singh | UK
I was ready to seek a new challenge in my career and The People Pod were there to facilitate this new venture. From my initial contact with The People Pod I felt confident in my decision, they really took the time to understand me on a personal level and what I was looking for and was able to find me the perfect match. The entire process was quick, and I was fully informed throughout. I would thoroughly recommend The People Pod to others and already have.
Lydia Jenkins |
I had a great experience from start to finish with the People Pod Team, they were so helpful and really knew their stuff inside out. They were constantly in contact keeping me updated every step of the way and also helped prep me for any interviews and directed what to research to be completely ready for interviews. Super friendly and supportive which made it a lot less stressful and have now got me into a dream job with lots of opportunity. Honestly can't thank and recommend them enough!
Bethanie Young |
Got my dream job through The PEOPLE Pod. My consultant was down to earth and approachable, had good knowledge of the company which helped greatly in the interview and offered some great advice
Jamie Ronald |
I met face to face with my consultant and he gave me a full brief on the potential opportunity. We agreed to meet his client to discuss the role further and he helped me prepare for both first and second interviews. The process from start to finish was seamless and very professional, I would have no hesitation in recommending The People Pod as a first-class recruiter.
Carl Richardson |
"The People Pod have taken the time to understand, and match my needs. The full recruitment process was a great experience. My contact was fun and engaging, whilst encouraging me throughout the whole process. The interview preparation was a great help – just what I needed to prepare. I can recommend The People Pod to anyone looking for their next career move!"
Lish Zhang |
The team at The People Pod not only approached me in a professional manner to instigate my move, they were also on point with their processes through the interview stage and were always there to discuss the opportunity. I would recommend them to anyone looking to find a new job.
Dan Beardshall |
Latest Retail & Hospitality Articles