Our Top Tips for Recruiters During Lockdown and Beyond
Recruitment has seen a big shake-up as a result of the UK lockdown, and recruiters are now looking to connect talented candidates with top clients in new and innovative ways.
With established operating models out of the window for the time being, it's time for recruiters to really show their value by levelling up their skills, embracing new communication approaches, and demonstrating all the ways they can help make the right connections in this unprecedented, unpredictable time.
How can this be done? Well, the experts at The People Pod have a few ideas!
Ever since the initial three-week extension to the lockdown was announced, The People Pod has been posting some top tips for clients to succeed over on LinkedIn. We've rounded them up to share with you right here, so take a look!
Communicating with Candidates & Clients During Lockdown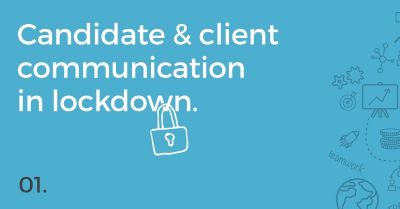 Listen and learn.
Manage your client and candidates expectations with integrity. If recruitment campaigns may be delayed or on hold, be completely transparent with both parties. Poor communication during lockdown can have a long-lasting negative impact. Show you're there to support them during this difficult time.
Likewise, let your internal messages be open and honest across your entire team to gain greater trust and loyalty.
Understand and empathise how your clients and candidates lives may have been affected. It's a great time to utilise email marketing and social media by sharing great recruitment insight, opinions and tips in a fun yet engaging way.
In a climate full of doom and gloom media, ensure you counteract this with a positive voice and tone throughout all your communication
Utilise every channel available to us recruiters. During lockdown your candidates and clients may wish to communicate very differently, try to figure out which channel suits your customers and lean into that method. Have you tried social media, website updates, blog posts, vlogging, podcasts, email marketing, newsletters, video calls, video messages, text, WhatsApp, screen share or maybe just pick up the phone.
Phrases That Should Be Banned in Lockdown
There is some fantastic content coming from all recruiters during lockdown, including fancy dress Zoom meets, Tik Tok battles and virtual quizzes.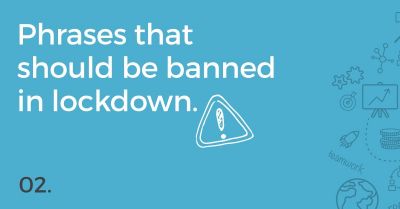 However, there are certain phrases and words that are slowly becoming a no-no when getting your name out there…
"Nice to e-meet you!"
"New normal"
"My services are probably the last thing on your mind right now, BUT…"
"We're putting our arms around you…"
Please don't carry the COVIDiot label!
What are the phrases and words that really kill your groove?
Prepare Your Five Best Case Studies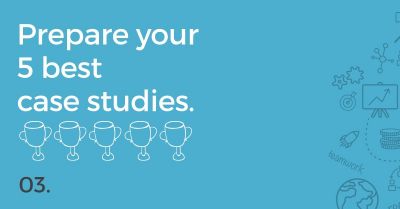 To deliver great work it takes great clients and you probably have at least five of them, right?
Case studies are a proven way to showcase how valuable your recruitment skills have been to previous clients and candidates. During lockdown, why not highlight your real-life success stories and accomplishments that you are super proud of to prospective clients.
However, please do not mistake a case study for a review. Although reviews are also valuable to clients, case studies are a detailed demonstration of your expertise, such as:
You always evaluate your clients' needs
You seek to understand their business
You're industry experts and speak their lingo
You fully immerse yourself in their culture
You can become a seamless extension of their brand
Now take all the above and format it in a way that connects, smacks impact, and keeps your potential clients engaged (which will more than likely be director-level professionals). Talk about the brief, your challenges, your approach, the results and ultimately the client impact. Finally, a video testimonial from them would be the icing on the cake, right?
How Good is Your Digital Presence?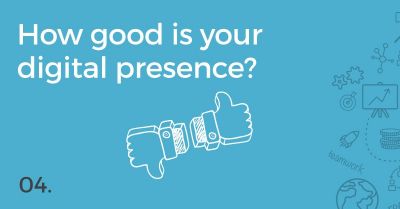 Do you often find yourself preaching to candidates the importance of impressing future employers by curating an outstanding digital presence? We all do this, right?
However, do we really practice what we preach?
Most potential clients will check several of your digital channels before they trust you with one of their recruitment campaigns especially during and beyond lockdown.
Just like our candidates, we should also ask ourselves the same question:
"If I were a potential client looking at my digital presence (LinkedIn, Facebook, Twitter & Instagram to name a few), what score would I give myself out of 10?"
If the answer is less than seven or eight, maybe there is some work to do during three more weeks of lockdown to increase your chances of securing that next job order.
If you are a professional recruiter looking for further information on how to improve your digital presence, The People Pod would like to hear from you.
WFH for Recruiters
Who would have thought recruiters would easily adapt to WFH? No client visits, no face-to-face interviews and no on-job-experiences, wow! Now we're in lockdown, we really must find a way to navigate around this time, so we come out thriving rather than victims.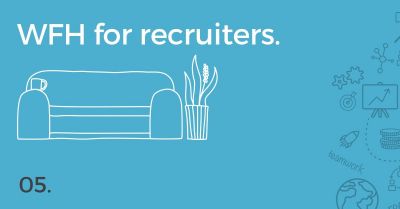 We're pretty sure by now, you've already set up your dedicated home office, that's hopefully not shared with home schooling children or noisy partners. You're actually proud of your WFH routine; prioritising skills, ground rules, video communication, solid structure and well-deserved scheduled breaks.
Yet keeping a hot recruitment desk during this challenging time will test us perm recruiters like never before.
Like us, over the last 4-5 weeks you may have faced some of the following new challenges during lockdown: pipeline preservation, PSL recruitment freezes, retainers put on hold, collecting outstanding monies, obtaining new job briefs, losing out on your sixth sense during video calls, controlling candidates with deferred start dates, keeping a positive mindset and mastering virtual onboarding - not to mention the massive loss of income too!
Recruiters, we'd like to hear what challenges you're facing WFH during lockdown?
Offer Lunch & Learn Webinars
With social media usage on the up and candidates availability challenged, there's no better time to grab their attention over lunch!
You may not be in the same room sharing pizza, but lunch-and-learn webinars can be done virtually and they're a fantastic informal method of sharing your knowledge with several candidates at once.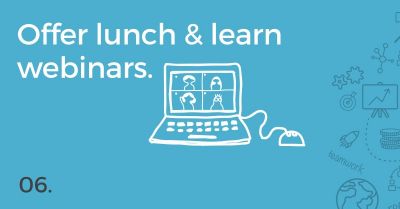 Publicise your event, give people time to plan and achieve buy-in and referrals from as many people as possible. Aim to create a "buzz" around your webinar!
There is a long list of benefits to lunch and learns, they offer a sociable, collaborative alternative to traditional classroom-based e-learning. A virtual environment is safe and also responsive during business change. It can help build confidence for candidates getting behind a camera too.
It's important to decide what you want to achieve and welcome feedback from your attendees. Be sure to communicate well which platform you choose to stream from and that it's accessible for all devices prior. If it's not possible to get all your registered attendees on the call, record it and send it out - it's a great training method too.
Knowledge is wealth during lockdown - share it!
Listen, Learn & Support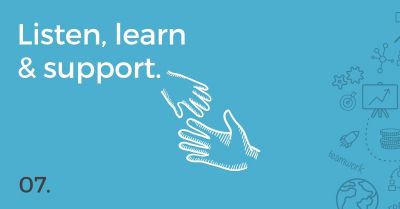 To navigate this new world of work and uncertainty, it's crucial as professional recruiters that we listen, learn and support our candidates and clients alike. A great quote has been mentioned to us several times this week:
"We are not all in the same boat, but we are all in the same storm."
This is so true right now. Let's face it, it's going to be doom and gloom for a short while in the hospitality sector. Your favourite restaurants, bars or social hangouts are all fighting for survival right now; however, business is booming for supermarkets, albeit a very different customer experience.
The point in hand is that we must listen to our clients and understand how their lives may have been affected professionally and personally. Then learn from this insight and show compassion in how we can support them through this challenging time. There really is no rule book, we are all learning on the fly here.
It would be great to hear what other recruiters are experiencing right now.
Seize This Opportunity to Upskill
Do you want to be the best recruiter you can be, master your profession and future proof your career post lockdown?
We've all been talking about the silver lockdown lining for recruiters to rebuild themselves and take this time to further educate or upskill, but which skills should you look to acquire?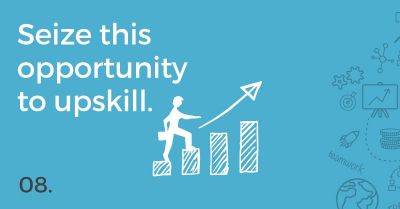 Well, over the last five weeks you've already learned the new skill of 'patience', right? That's a great start.
Why not search the rec to rec adverts and uncover what skills are in demand to help reinvent yourself?
Look over your internal job descriptions and help bridge those skill gaps required to secure that next promotion.
If you're resourcing in-house, request a video call with your head of department to discuss what skills are lacking in the team that could bolster your chances of further development in the future.
There's a host of virtual recruitment training courses available - please let us know which ones have worked best for yourself.
Enhance Your Domain Knowledge Expertise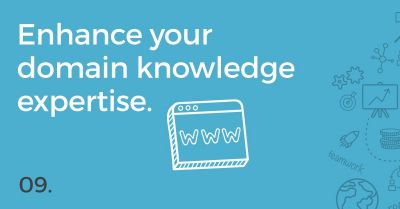 We've already shared some useful insights, opinions and tips on taking the chance to upskill during lockdown; it's also a good time to enhance your specialist domain knowledge.

You've all heard the saying 'knowledge is power', right? But how deep is your knowledge in your specialist sector?
Are you the inch wide and a mile deep recruiter that knows all the fine detail and nuance of your niche domain? You're connected to every client and every candidate in your specialist area, you receive all the industry news, you speak on behalf of your industry and regularly write engaging content that's shared across your community.
Or...
Are you the mile wide and inch deep recruiter that has a broad knowledge of the basics but in a wide range of sectors? You connect with many candidates and clients yet can't truly profess to be their domain expert, as you're spreading yourself too thin with the vast volume and variety of active job roles.
Now is the ideal opportunity to enhance our domain knowledge expertise and add real value to your candidates and clients post lockdown.
Showcase Your Knowledge With Wordsmithery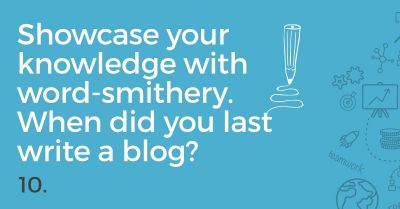 There's so many benefits for us recruiters to demonstrate our insights, opinions and tips via a blog. We can attract new passive candidate interest, highlight how awesome it is to work with us, showcase our domain expertise and reach clients through newsworthy engagement.
Hopefully, you've been actively writing topical recruitment blog posts throughout your career and lockdown has given you a little more freedom to get super creative.
However, if you haven't put pen to paper recently, now may be a great time. We find it useful to follow these steps:
Define the goal of your blog posts
Define your target audience
Agree on our tone of voice
Select trending recruitment-related topics to generate interest
After you publish your blog post, why not chop it up into several social media posts to increase your presence too?
Lean Into New Opportunities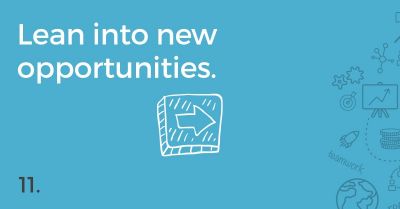 It's still uncertain when we'll return to work, have a thriving vacancy list and a pipeline for all to envy. So, are we going to sit and wait for opportunities or create them? We really do create our own luck, right?
We know most businesses are watching the pennies right now, but do they know we're not just transactional recruiters and that we offer a whole heap of transformational services such as:
Salary surveys
Bespoke recruitment strategies
Job specifications
Career sites
Training and support
Talent planning
Change management
Many other consultancy services
There are many things that we could be doing right now that may benefit our clients immediately or further down the line.
The cusp of it is, when you take your blinkers off, make yourself open to such opportunities and are willing to do what it takes, without the promise of financial return, you may just lean into it as a new opportunity. This will prevent you sitting and watching from the side-lines, procrastinating and contemplating what could've been.
There are recruiters who make it happen. Ones who watch what happened. Then others that say "what happened?!"
Overhaul Your Recruitment Processes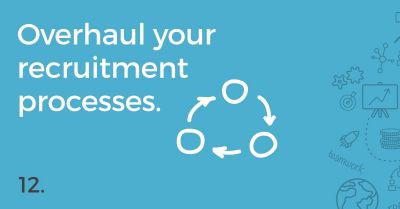 If you're not already, then it's time to become obsessed with constant and never-ending self-improvement.

There's probably one or two steps that occasionally slip the net, so it's time to go back to basics and overhaul your process.
During lockdown there are some specific steps that you can improve or even diversify, such as:
Taking a complete job order - ask questions related to WFH set ups, the interview process and how it will change, and the hours may have even changed.
Making a recruitment plan - where candidates choose to hang out may have changed, your whole approach may have to reflect this.
Setting up interviews - video technology has proven it's possible and this may help you offer it as an option and speed up the recruitment process.
Offers, acceptance and start dates - it's an unnerving time for all, they could be starting a new role during the most challenging time. Provide support and give transparency during the whole process to manage this effectively.
Staying in touch with candidates and employers - now more than ever, it's important to be over-communicating.
Overhaul your process, share best practice and get a little bit better every single day.
Competitor Analysis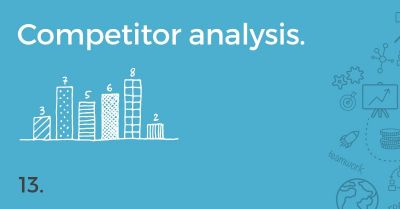 Recruiters, what do you know about your competitors?
We're in a highly competitive industry, so it is important to pay attention to your competition and what they're doing. Make sure you regularly review your marketplace to widen your perspective on your own business and respond to market trends or changes.
Here are a few pointers to think about…
Who are your competitors? - it could be local or national recruitment companies, niche or general recruiters and even online portals.
What is different about them? - what are their USPs and why do people use them? Really delve into them to find out more.
Rate their customer service - do they share testimonials or have lots of reviews? If so, what feedback can you obtain from this and are they doing anything you're not?
How do they market their services? - take a good look at their promotional activity; email marketing, blog, social media engagement etc.
What other information can you find? - how are they responding to lockdown and communicating this to their audience? Are they investing in certain software?
Don't get too wrapped up in your competition, stay in lane and use this to create competitive intelligence and self-improvement.
Rack Up Those Well-Deserved Referrals and Recommendations
Referrals are a fantastic way to build strong networks of trust between you, your clients and your candidates. They can help build a pipeline to be envious of, attract new clients/candidates and increase authority in your specialist sector.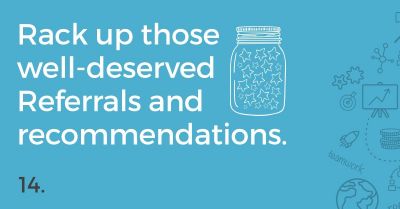 There's really nothing better than having somebody you worked with personally recommending you for your great services.
So, how do you ask for a referral? Smart recruiters already spend time sourcing within their candidate networks. If you're already doing this and a name is dropped, skip the referral and ask for an intro.
Client referrals are the crème de la crème of referrals. They display a top level of buy-in and trust from your existing clients. New business generation at its finest!
Candidate referrals are the easiest and quickest way to increase your outreach to qualified candidates. They also help decrease time-to-hire and do wonders for your reputation.
Spot the opportunity by leveraging every success, from a conversation to a successful placement/recruitment campaign.
If you're known as a recruiter worth knowing, the candidates, clients (& referrals of course) will come to you!
Gather Candidate Reviews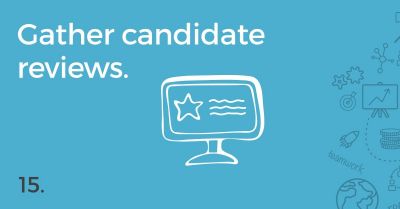 If a candidate you have worked with is happy to refer their friends, they should be even happier to leave you a glowing review, right?
Before you ask for the unchangeable review on your digital presence, it may be an idea to simply ask for their feedback. How was their experience?
Once you have received the great feedback you deserve, there are several trusted review websites that you ask to display their kind words on such as Google and Trustpilot. How about a candidate testimonial for your website and social channels, too?
Candidate reviews can help attract new candidates and clients as they reassure prospective users of your services of the experience and results you can offer.
Pulling in candidate reviews is a fantastic way to improve your branding, reputation, and trust with new and existing customers.
So - which candidates can you get reviews from today?
---
By following the advice above, recruiters can mark themselves out as innovators, experts and industry leaders during the lockdown, ensuring they are well positioned to continue thriving as the sector evolves post-COVID-19!
For more expert insights into the recruitment market, get in touch with the pros at The People Pod. Find out more the services we offer for recruiters, or give us a call on 01204 589 555.